Are you fed up with the amount of time you spend mowing your lawn?  Here at The Robot Mower we have the solution!
We stock robot lawn mowers for all lawn sizes – from our simplest model the L60 (as featured in The Telegragh – Best lawnmowers to buy) which can cover a garden almost the size of a tennis court up to the L400 which can cover an area up to 2 full size football pitches….and everything in-between.
L60 mowing 100 sq. m (8 x speed)
We are here to ensure that you find the right robot lawn mower for your garden…if we don't think your garden is suitable, we will tell you.
Use our Measure My Lawn page to see what the size of your garden is, look through the Ambrogio Range to find the one that suits your garden and then contact us to ensure you are making the right choice. Whether you are require a professional installation or you are installing it yourself, we are here to offer support and guidance with the installation and the subsequent setup.
Ambrogio Range at a glance
Why Buy A Robot Lawn Mower?
Robot Lawn Mowers can save you time and money
There are a number of factors to consider when looking at the time and money savings:
The initial purchase and installation cost: Robot lawn mowers are generally more expensive that traditional electric or petrol powered mowers although for large gardens can be cheaper than a ride-on mower that covers a similar area.
The cost of your time (or maybe your gardener's time): This is where the big savings are found. If you have a gardener, how much do they cost (£20-£30 an hour in our area)?  If you mow the lawn yourself, how much do you value your time and if you had that extra time, what would you do with it? It saves us 3-4 hours a week on a 5000m² lawn.
The cost of fuel: Robot mowers cost approx £20 – £40 per year to run, that wouldn't run your petrol mower for long!
Robot Lawn Mowers are more eco-friendly
Using a petrol mower tends to be a noisy, environmentally unfriendly chore.
In the US, it was reported that petrol mowers create 5% of U.S. air pollution. Hopefully it has decreased since that report but it is still significant. 
A robot mower is quiet and uses a small amount of electricity, about the same as running your PC and as you will be recycling your grass-cuttings it is estimated that you will need around 25% less fertilizer
Robot Lawn Mowers improve the quality of your grass
The robot lawn mowers cut little and often.  The aim is to cut every blade of your grass 2-3 times a week.  The small amount that is cut (not noticeable) is left on the lawn (mulch) thus returning the nutrients to the soil.  It is estimated that you will need around 25% less fertilizer than normal mowing.  You also the convenience of not having to dispose of the grass cuttings.
Why buy a Robot Lawn Mower from TheRobotMower?
We are your local Ambrogio dealer
We are the only dealer for Ambrogio robot lawn mowers in East Anglia. We can offer you not only a personal service but when you buy an Ambrogio product, you also get the support of Ambrogio UK which has been dealing with robot mowers for over 15 years.
Ambrogio products offer:
Warranty: Ambrogio is commited to providing top quality robotic mowers with up to 6 years warranty
Quality Components: 98% of components are manufactured in Europe.
Experience: Ambrogio has a long period of experience in robotics, software and battery technology and a number of patented technologies which you will not find from other manufacturers.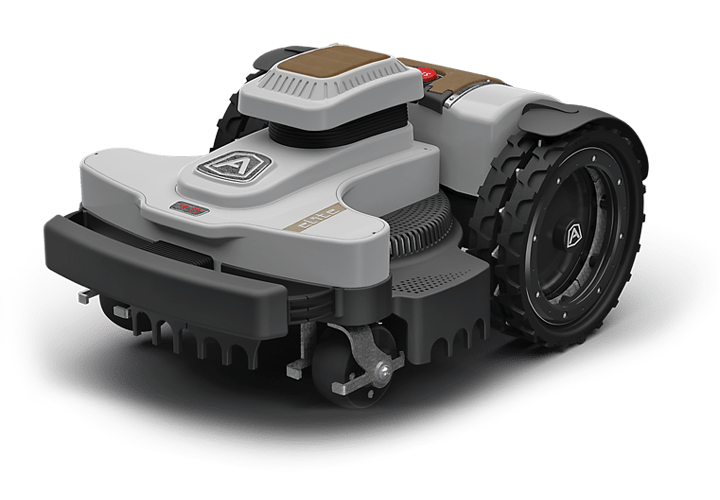 Real experience and excellent customer care
We are your local Robot Lawn Mower specialists covering Essex, London and East Anglia.  We are based just outside of Blackmore, Essex. We don't have a lot of experience of selling … but we do have experience of using them. We have 1 acre of grass to mow and were fed up of mowing our grass for 3+ hours a week so we decided to look at a robot lawn mower. As you rarely see them in the uk, it was difficult to get information so we started researching them on the web and bought our first robot lawn mower in early 2018.  The improvement was amazing, the quality of the grass improved, it freed us up to spend time on other neglected parts of the garden… it was so good, we decided to start selling them….and TheRobotMower was created.
We will make sure that you find the best robot lawn mower that suits your garden…even if the answer is not a robot lawn mower.  We can also pass on tips we have learnt through the experience of installing them and using them