Ambrogio By The Robot Mower
Ambrogio By The Robot Mower
If you have time on your hands, need a distraction and have thought about a robot mower before, maybe buying one and installing it yourself is a possibility (and a big money saver).
We can carry out a virtual lawn survey (using a satellite image & photos), provide you with a mower and installation kit and give you instructions specifically for your lawn.  
Contact us today for your free installation guide but more importantly STAY HOME & STAY SAFE!
Buying A Robot Lawn Mower?
Ambrogio Robot Mowers At A Glance
Why Buy A Robot Lawn Mower?
Robot Mowers can save you time and money
While robot lawn  mowers are generally more expensive than traditional electric or petrol-powered grass mowers (although cheaper than ride-on mowers for some large gardens!), they will save you money in the long term.
How? Because they let you save the money you'd usually pay a gardener or, if you mow the lawn yourself, they turn the time you spend mowing into extra free time.
If you have a gardener, how much do they cost? In our area, it's £20-£30 an hour, which quickly adds up. If you mow the lawn yourself, how much do you value your time? If you had that extra time, what would you do with it? It saves our family 3-4 hours a week on a 5,000m² (just over an acre) lawn.
All a robot mower costs to run, after you set it up, is £20-£40 per year for fuel (electricity). That wouldn't run your petrol lawn mower for long!
Robot Mowers are more eco-friendly
Robot Mowers improve the quality of your grass
The robot lawn mowers cut little and often. The aim is to cut every blade of your grass 2-3 times a week. The robotic mowers trim off a small, barely noticeable amount, leaving the cut grass on your lawn as mulch, which returns nutrients to the soil. It is estimated that you will need around 25% less fertilizer than normal mowing, and you'll never have to dispose of grass cuttings again!
Why Buy A Robot Lawn Mower From The Robot Mower?
We are your local Ambrogio dealer
We are the only dealer for Ambrogio robot lawn mowers in East Anglia. When you buy from us, you're not only getting a personal service—you're also getting the support of Ambrogio UK, which has been dealing with robot mowers for more than 15 years.
Ambrogio products offer:
Warranty: Ambrogio is committed to providing top-quality robotic mowers with up to 6 years warranty.
Quality Components: 98% of components are manufactured in Europe.
Experience: Ambrogio has over 20 years of experience in robotics, software and battery technology, and owns a number of patented technologies that you will not find from other manufacturers. 
Continual Improvement: Based on the mowing information captured by the robots, the robot software is continually being improved and you can update it yourself.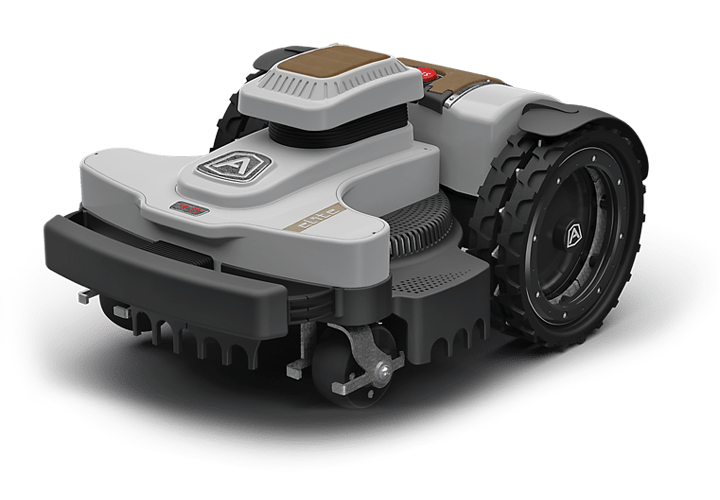 Real experience and excellent customer care
We are your local robot lawn mower specialists covering Essex, London and East Anglia.  We are based just outside of Blackmore, Essex.
We have an acre of grass to mow at home. We were slowly becoming fed up of mowing for 3+ hours a week, and decided to look at robot mowers as an alternative. You rarely saw them in the UK, so it was difficult to get information. After researching them on the web, we bought our first robot lawn mower in early 2018. The improvement was incredible. The quality of our grass improved and it freed us up to spend time on other parts of the garden. It was so good, we decided to start selling them…and The Robot Mower was created.
See our blog for more details of the journey.
We will make sure you find the best mower that suits your garden…even if the answer is not a robot mower. We can install and set up your robot mower for you, and pass on tips we've picked up through owning, installing and running three of them ourselves.
The Robot Mower is based just outside of Blackmore, Essex.  We're about 15 minutes from Chelmsford, Epping, Brentwood and junction 7 of the M25.
Lawn surveys & Ambrogio L60 trial
We offer lawn surveys to help you decide which is the most suitable robot mower for you.  There may be a minimal charge (unless we are going your way anyway) – Contact Us for more details.  Even if there is a charge, it will be deductible from any purchase.
We can offer a demonstration of various installed models or if you are interested in an Ambrogio L60, we can offer a free trial. See the L60 page for more details.