Robot Mowers
save Time/ Money
We saved 3-4 hours a week mowing our garden and saved £200 a year on fuel costs. If you have a gardener, you could easily save over £1000 a year on their time. * * Based on 2 hours mowing a week
Robot Mowers
improve the Quality of your Grass
A robotic lawn mower cuts little and often & aims to cut every blade of your grass 2-3 times a week.
A robotic mower cuts a small, barely noticeable amount of grass, leaving the cut grass on your lawn as mulch, which returns nutrients to the soil so you'll never have to dispose of grass cuttings again!
Get an quick idea of the best mower for you
5.
Choose from our
Ambrogio
or
Belrobotics
ranges
We bought our first robotic mower in early 2018 to mow our garden at home having become fed up of mowing for 3+ hours a week.
At the time, you rarely saw robotic mowers in the UK and it was difficult to get good advice. After lots of research (on the web), we bought our first robot lawn mower and the improvement was incredible.
The quality of our grass improved and it freed us up to spend time on other parts of the garden. It was so good, we decided to start selling them…and in 2019 The Robot Mower was created.  Learn more about our journey.
We are not a company that just sells robot lawn mowers, we help people decide on the best robot mower for them based on our experience of using automated mowers on a day-to-day basis.
What sets us apart from other robot mower suppliers is that we purely specialise in robot mowers and we offer exceptional customer service, have a look at our reviews.
Our range of robotic mowers
The Robot Mower is a dealer for Ambrogio and Belrobotics Robot Lawn Mowers to the domestic and commercial market.  We sell mowers that can cope with small, large or huge areas and even estates and areas that have very uneven or steep areas but selling robotic mowers is a small part of what we do. 
We spend most of our time ensuring clients have the best robot mower for their lawn and their lifestyle.  Choosing a robot mower is not just deciding whether you have a small, large about measuring the size of your lawn, there are so other factors to consider:
The different areas of your lawn and how they link together
How you might want to change the layout in the future
What the surface is like (flat, uneven, well-drained etc.)
When you want the robot mower to mow the lawns (time of day/ days of week)
How the wildlife may affect the mower and the perimeter wire
etc.
We offer the following to help you decide the best mower for you:
Once you have chosen your robotic mower then we can:
After installation, we have not finished, we'll help you with:
Any problems encountered after setup
Spares (we offer client discounts)
Servicing
Why Buy A Robot Lawn Mower From The Robot Mower?
We are your local Ambrogio dealer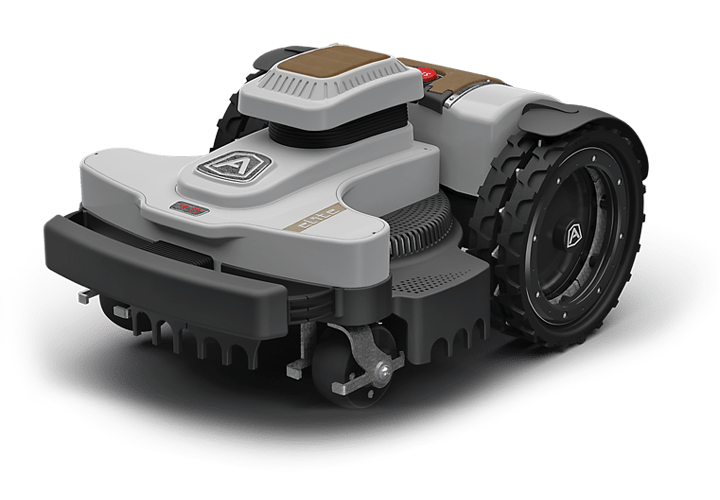 We are the only dealer for robot lawn mowers in East Anglia who purely specialises in robotic lawn mowers.
When you buy from us, you're not only getting a personal service—you're also getting the support of Ambrogio UK, which has been dealing with robot mowers for more than 15 years.
Ambrogio products offer:
Warranty: Ambrogio is committed to providing top-quality robotic mowers with up to 6 years warranty.
Quality Components: 98% of components are manufactured in Europe.
Experience: Ambrogio has over 20 years of experience in robotics, software and battery technology, and owns a number of patented technologies that you will not find from other manufacturers. 
Continual Improvement: Based on the mowing information captured by the robots, the robot software is continually being improved and you can update it yourself. 
Looking at the competition
We often get asked about how Ambrogio compares to Husqvarna Automower.  Although both are manufacturers of premium quality robot lawn mowers who have been involved with robot mowers for over 20 years, here are a couple of areas where Ambrogio stands out:
Maximum Area – Ambrogio offers mowers which can mow up to 20,000 m² whereas the maximum for Husqvarna (450X) is 5000 m².  Have a look at our range of mowers for huge gardens and estates.
Mowing time – For cutting the same sized area, an Ambrogio robot mower cuts it significantly quicker than a Husqvarna due to the battery capacity and navigation software.  Have a look at the competitor information for:
–  Twenty Deluxe vs Husqvarna 305
–  Twenty Elite vs Husqvarna 310
(You can check the figures on the Husqvarna site but you'll need to look at the manuals and work it out from the maximum area per hour figures).
Ambrogio vs Other Manufacturers
In April I purchased two of the Ambrogio mowers (4.0 elite and 4.36 Elite) to cover about 8,500m2 of lawn at my home on Cambridgeshire.
Hugely knowledgeable and very patient when explaining all the facets of these machines to the layman, Paul also expertly installed the necessary wire over two days using his wire burying machine. As an official dealer for Ambrogio he is also well supported by the factory in Italy….more
I had an Ambrogio robot mower installed about two months ago by Paul. He was absolutely great. Very approachable, very knowledgeable and has given excellent after sales service. He has always been available, at the end of a phone, to deal with any problems I've encountered. In fact he has gone far above and beyond what could be expected.
I fully recommend him and the product, Ambrogio robotmowers, without hesitation.
Very quick efficient service – good customer service and very responsive to queries – Paul is very knowledgeable about the product
Would strongly recommend his service and use it again
If you live in Essex, seek out Paul for all your Robot Mower needs. Such a friendly, knowledgeable guy. Robot Mowers are the next 'big thing'. Talk to Paul.
Bought an Ambrogio L60. I love it and the customer service provided by Paul was exemplary. I am totally sure I chose the right mower as I didn't want the hassle of a perimeter wire. Every query I've had has been answered quickly and efficiently. I recommend both the firm and the machine. I want my grass to grow quickly so I can use it more often.
Having researched absolutely every known iMower brand, we found this incredible company, selling the brilliant Ambrogio range of iMowers. The proprietors are exceptional people who knew exactly what iMower we needed. Paul provided both an informative and very supportive pre and post customer focus that was considerate, kind and helpful. A satisfying buying experience that gives a confidence to continue to purchase our ongoing accessory needs from Robot-Mower. Thank you so much, we will cherish our Ambrogio (Roberto) Twenty Elite.
Very glad I bought through Robot Mower, Paul responded quickly and at length to my queries over email during COVID. Also best price I could find online.
Great experience. Service from Paul Horti absolutely great attentive and responsive.
Robot also performing incredibly well and the field looks in great condition. Much better than when I did by tractor. 100% recommend
Where we are
The Robot Mower is based just outside of Blackmore, Essex.  We're about 15 minutes from Chelmsford, Epping, Brentwood and junction 7 of the M25.
Lawn surveys & Ambrogio L60 trial
We offer lawn surveys to help you decide which is the most suitable robot mower for you.  There may be a minimal charge (unless we are going your way anyway) – Contact Us for more details.  Even if there is a charge, it will be deductible from any purchase.
We can offer a demonstration of various installed models or if you are interested in an Ambrogio L60, we can offer a free trial. See the L60 page for more details.